Being in love is the sweetest feeling ever, especially when it's new. If you're in love or have ever been in love you'll identify with these moments of pure bliss that come with just the right hint of pain...
When your partner uses your photo as his/her wallpaper/screensaver on his phone or other electronic devices.
When your partner calls your name.
When your partner looks into your eyes + touches your face
The very first kiss you share and other kisses that follow, especially stolen kisses
When your partner hugs you unexpectedly from behind
When you get gifts from your partner, especially when there's no occasion #JustBecause

The look on your partner's face when you give him/her a gift
The moment your partner says "I love you" especially the very first time
When you see your partner again after some time apart
When your partner holds your hand or displays any form of affection in public
When your partner calls or texts you, especially if you're having a bad day.

When your partner declares and/or affirms his/her love for publicly( and by "publicly" we mean social media... specifically Facebook and Instagram😊😊😊)
When your partner says "I miss you"

When people ask you about your partner or when they are interested in your incessant talks about your partner

When your partner introduces you to friends and family as his/her love
When someone else mentions your partner's name
When you cuddle/snuggle with your partner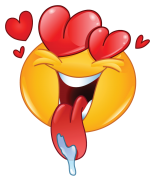 What moments have we missed? Let us know in the comments!
xoxo...